The Farmhouse Sink has become one of the most recognizable types of sinks available today. Its iconic look has become a symbol of style and charm and its popularity has sky-rocketed to new heights with the Modern Farmhouse Style made popular by designer Joanna Gaines. Is a farmhouse sink the right one for your kitchen?
What is a Farmhouse Sink?
A farmhouse sink, also known as an apron sink, is a wide basin sink with a large panel of the sink material extending down and covering the front of the cabinet like an apron. Much like an apron, this extension is used to protect the cabinet base from possible water damage.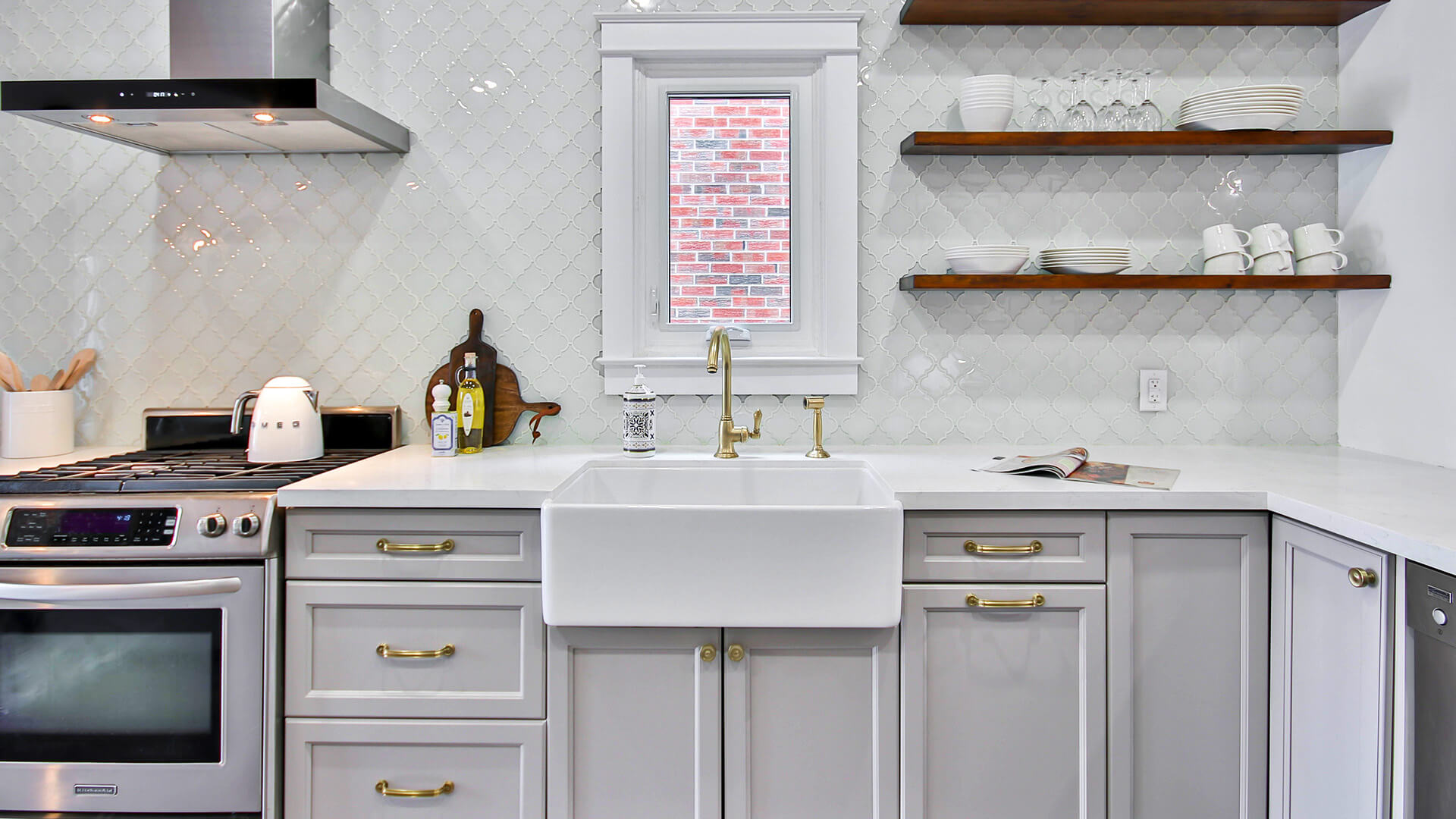 Where did Farmhouse Sinks come from?
The farmhouse sink can probably be considered to be the first sink, in the history of kitchens, we would recognize as a kitchen sink. Before they came along, people used buckets to carry their water into the house and then used the buckets as vessels for washing.
In the early 1800s, before indoor plumbing, "dry sinks" were used. These were large bowls made of metal, stone, or wood which were placed on a free-standing cabinet or windowsill that had some space on either side to set down the items to be washed.
Toward the end of the 1800s, a new type of sink emerged in Belfast, Ireland, and in London, England called the Belfast sink and the London sink respectively. Similar to each other, but with some varying depths and features, these sinks were the first generation farm sinks. The deep basins were made of stone, ceramic, steel, or enamel-covered cast iron and featured drainboards on either side.
The sinks were also supported with legs. Each was custom hung on the wall to a comfortable height for the main user, who was also able to get right up to the sink with no cabinet to interfere. These large, workstation sinks which could handle dishwashing, food prep, baby baths, and even laundry became extremely popular in rural America and so became known as farmhouse sinks.
Modern Farmhouse Sinks
Once the farmhouse sink was moved into cabinets, it provided extra protection for the wood. The apron in front, covered the front of the cabinet protecting it from water damage. Water that splashed over the edge flowed to the floor.
Are Farmhouse Sinks Still Popular in 2022?
The farmhouse-style sink has stood the test of time and proved that it is a true classic and is here to stay. The use of new materials and the addition of some new features have made this time-honored design popular in the 21st century.
What Materials Are Used in Farmhouse Sinks?
Cast Iron
A material traditionally used for these sinks, it is durable and glossy but also heavy and prone to chipping and staining.
Porcelain
Manufactured to be durable and scratch-resistant, it comes in a variety of colors but can crack if not handled properly.
Copper
A unique metal available in three finishes: raw, lacquered, and pre-installed patina. Unlacquered (raw) copper has natural antibacterial properties but can be harmed by harsh chemicals.
Stainless Steel
An affordable, lightweight, easy-to-install modern alternative to the traditional look but can become scratched or dented over time.
Fireclay
Built to withstand heavy-duty use but they are heavy, expensive, and must be cleaned with care.
Stone
Soapstone, granite, marble, and travertine are elegant, colorful, durable, and resistant to chipping and cracking but are heavy, expensive, and require resealing every few years.
Composite
Made of a mixture of stone and minerals, it can be affordably priced depending on the blend. Usually lightweight and easy to install but can't hold as much weight as some of the other materials and must have a water-resistant sealer applied.
What are the Features of a Farmhouse Sink?
Today you can find farmhouse sinks with many of the same features found in other types of sinks such as multiple bowls, customized drainage placement, and specialized faucets mounted on the countertop or wall. 
Farmhouse sinks can be mounted in three ways: overmount, flush, and under-mount, though the latter two types are most typical.
What do People Like about Farmhouse Sinks?
There are several reasons why the farmhouse sink has maintained its popularity over the years. You may find that these reasons make this sink right for your kitchen, too.
Comfort
The farmhouse sink is built for comfort. Normally, a sink requires at least a couple of inches of cabinet/countertop space for installation. This means you have to do some extra arm extension when reaching inside, which not only tires your arms but also puts more strain on your back. The ergonomically designed farmhouse sink allows you direct access to the sink without discomfort.
Size
This style of sink is traditionally deep and wide, giving it a large capacity. Even though we no longer need to use it for all the various purposes it was used for in the past, its size is still convenient today when we have to wash big pots and large trays or clean up after a big party.
Appearance
The style of the farmhouse sink is distinctive and easily recognizable. Its association with the country farm, tradition, and a slower, simpler way of life creates an instant atmosphere of nostalgia and a sense of being secure and at home. The look is solid, dependable, and useful. All the things we associate with being at home.
Versatility
Many farmhouse sinks do not come pre-drilled with faucet holes. This allows you freedom in choosing from a wider variety of faucet styles. It also makes it possible to install other sink accessories.
Convenience
Farmhouse sinks that retain the traditional built-in drainboard provide an added convenience. The grooves etched into the drainboard catch any water deposited there and return it to the sink, leaving a relatively dry surface behind. This means easy clean-up and less mop-up.
Are there any Disadvantages to
Farmhouse Sinks?
Expensive Sink Materials
All the beauty, charm, and utility of farmhouse sinks do come at a price, especially if you are using your existing cabinets. Their larger size and frequently specialized materials such as porcelain, copper, or stone are more expensive than stainless steel. Depending on the material you choose, a farmhouse sink can cost from $250- $2,000 for the sink alone. Installation can range from $100- $500 or more.
Retrofitting Cabinets
Also adding to the cost is the need to retrofit your cabinets. Front panels must be removed and doors must be cut down to make room for the depth of the sink. Then the doors will need to be refinished. Sometimes, depending on the material you choose for the sink, you may even need to replace the countertop.
Additional Support Required
Because farmhouse sinks are large and usually heavy, they also require extra support. A specialized frame will need to be custom-built inside the cabinet to support the extra weight.
Custom Cabinets
However, if you are installing new cabinets, custom cabinets that fit apron-front sinks and have extra support can be ordered.
What Design Styles go with a Farmhouse Sink?
Farmhouse sinks have most often been used in farm/country, traditional, and occasionally transitional designs. These design styles evoke a classic look, a bygone era that is characteristic of the farmhouse sink, especially when traditional materials like porcelain or enamel-covered cast iron are used.
However, the farmhouse sink has now moved into other design styles. So, if your design taste doesn't run to the conventional patterns of the past, you can still enjoy the utility and beauty of a farmhouse sink. Because of the variety of materials and colors now available, the farmhouse sink can look right at home in contemporary and modern designs as well. Its distinctive form dressed in stainless steel, stone, or copper becomes a fitting focal point for sleek lines, bold colors, or even minimalist and monochromatic looks.


Style, charm, functionality, and versatility. The farmhouse sink has it all. Use our online Insta Kitchen tool to see what a farmhouse sink would look like in your kitchen. At Lofty, we are here to help you create your dream design.