The last two years have brought many changes, including what we need from our kitchens. Stories of kitchens being used as a home office, a temporary schoolroom, a storeroom for emergency supplies, and a retreat from stress are becoming more common. A review of kitchen design trends for 2022 reveals that homeowners and designers have been hard at work reflecting, planning, and producing beautiful, hope-filled responses to these needed changes.
The top trends highlighted below reflect the positive and creative attitude needed in these changing times. In the 2022 trends, there is more color to lift your mood, more function to handle increased workloads, more patterns for interest, and more personal touches to remind you of what is truly valuable.
Which Colors Are Trending for Kitchens?
The clean, airy look of a  white kitchen is still the most popular choice according to the Houzz 2022 Kitchen Trends Study, however, homeowners have started to modify that look by adding color and it has become a thriving trend in 2022.
Colored Cabinets
Most noticeable has been the preference for colored cabinets. Homeowners who are hesitant to add too much color to the kitchen just select a different color for the island to provide a contrast to the wall cabinets or perhaps add color to a unique cabinet to create a focal point. Those wanting to make a bolder statement are choosing to go with one style-setting color on all the cabinets or to opt for the two-toned look of one color on the upper cabinets and a complementary shade on the lower cabinets.
Growing Green
Recently, if a homeowner added color to their cabinets, the top choice was blue, especially dark blues. But one of the biggest color trends for 2022 is green, especially in its more muted tones. This soothing color provides a relaxing, peaceful atmosphere that is so important to restoring a sense of calm. Green is also popular this year because it belongs in the palette of natural colors and in the move toward all things organic.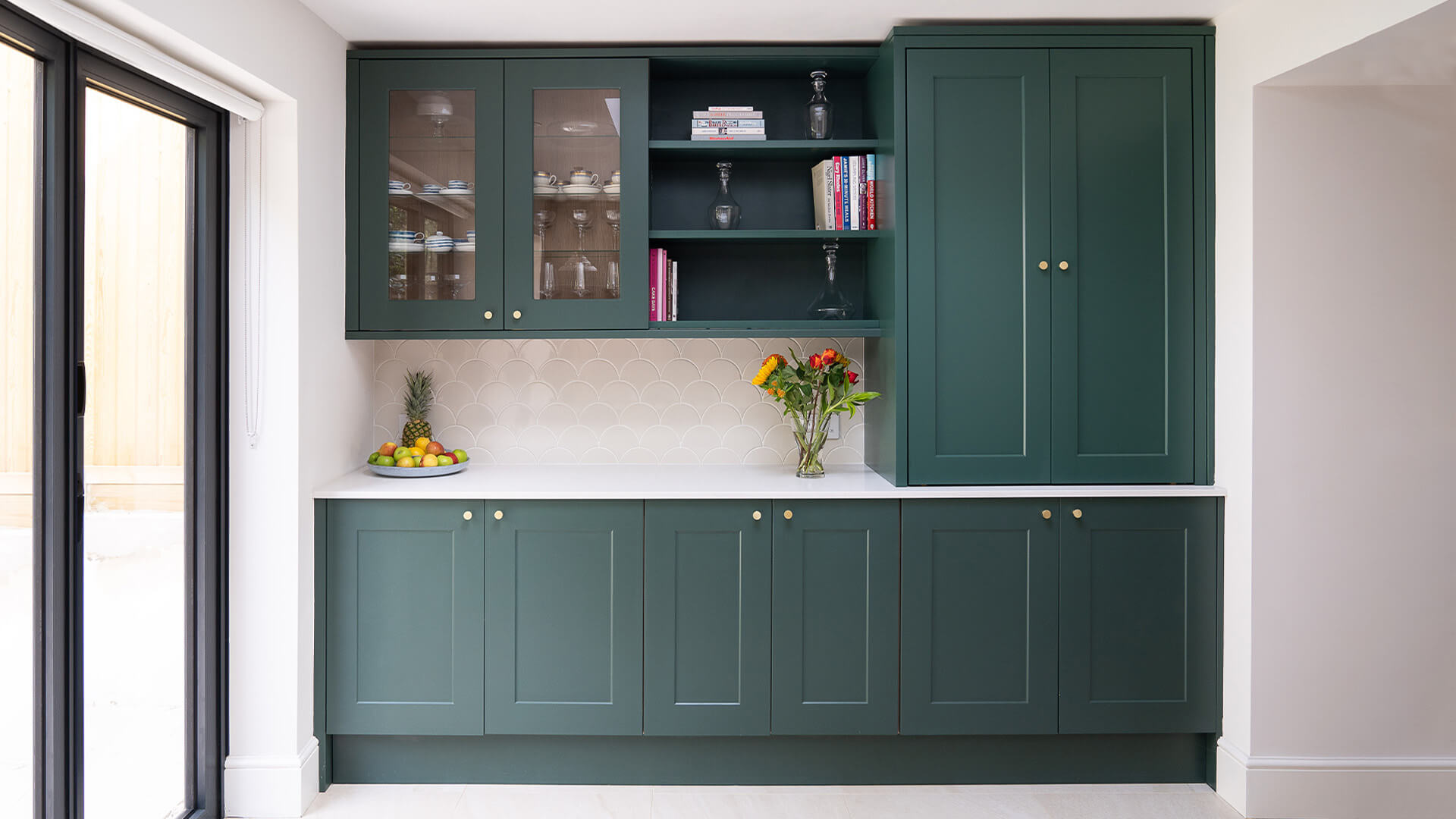 Black Beauty
Another color creating a stir this year is black. For some homeowners, black has become the new white. Black evokes the elegance of tuxedos and evening gowns. Contemporary cabinets with a matte black finish make a bold statement. Set against a quartz or marble backsplash, this creates a popular modern look.
But this is not the only way black is being used in the kitchen. Another favorite use of color is for accenting and details. Hardware, window trim, lighting, and even appliances are featured in black. When it comes to appliances and sinks, black is favored because it does not readily show stains and is, therefore, easier to clean and maintain.
Splashes of Sunshine
Another way color is trending is the addition of bright pops of warm colors, especially yellow. Although yellow has not been featured in the design palette in the past few years, its warm, cheerful tones are becoming a popular accent and accessory color.
What Features Are Popular for Kitchens?
In 2022,  homeowners want more flexibility in their living spaces. A report by the National Association of Homebuilders (NAHB) revealed that what homebuyers were looking for in a kitchen were features that provided more function. This report published late in 2021 to prepare for the 2022 market, indicated a trend toward making the kitchen convenient, adaptable, and multi-purpose. Some of the most popular features noted in the report as well as others cited by multiple designers are described below.
Pantries
High on the list of trending features are pantries, especially walk-in pantries. Having a separate area dedicated to food storage has become a necessity these days when shortages are a growing concern. Many homeowners have been stocking up on extra food supplies or canning and storing food. Also, having a place to store oversized or infrequently used items allows more space in the kitchen's high-traffic areas. 
Homeowners whose space or budget does not allow for the walk-in pantry are increasingly turning to larder cabinets. This specialty cabinet, with the popular French door (side by side) opening, allows easy access and plentiful storage of pantry supplies in one convenient location.
Double Basins or Multiple Sinks
In 2020, when most restaurants were closed and more cooking was done at home, people began to realize some changes were needed in their kitchens in order to better adapt to the "new normal." 
One problem area was the sink. It was a station for both food prep and clean-up. With more meals being prepared and more people preparing them, a single basin sink was insufficient. The trend now is for buyers to install either a double basin sink or multiple sinks if space and budget allow. A larger or main sink next to the dishwasher with a smaller prep sink on a large counter or island is a popular layout for convenience.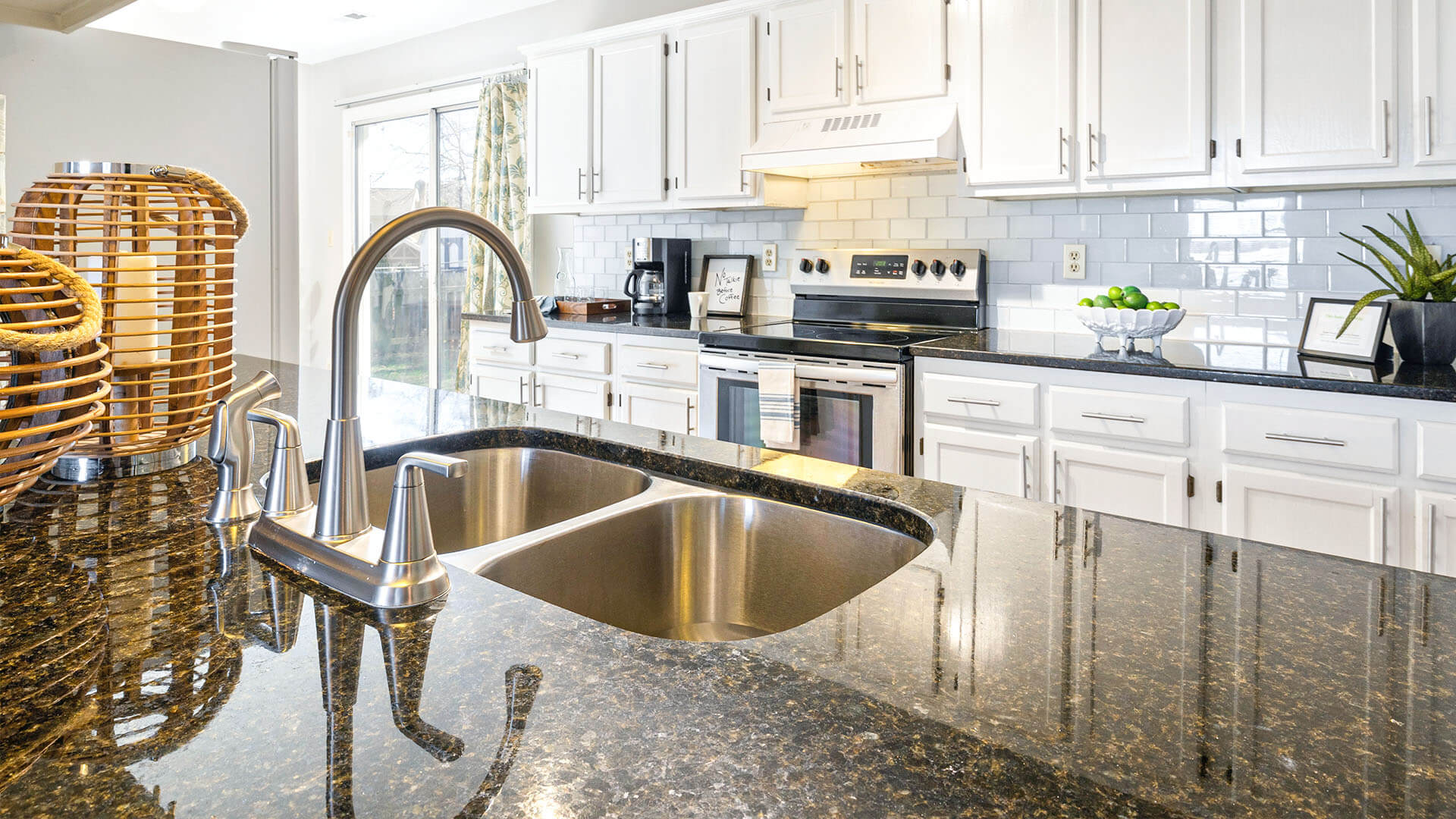 Larger Feature Islands
Kitchen Islands are nothing new but additions to islands are creating new trends in 2022. The Houzz 2022 Kitchen Trend Study shows that in an attempt to make a good thing even better, homeowners are increasing the size of kitchen islands and making them focal points. By using another style or color of the cabinet, changing the building material, and/or using a different countertop than is used in the rest of the kitchen, the island stands out as a unique but complementary feature. The addition of well-chosen pendant lighting above makes it picture perfect.
Double Islands
If one is good, two is better, right? This seems to be what the trend is saying about kitchen islands. Designers and homeowners alike are singing the praises of this solution to making the 2022 kitchen fit the needs of busy families. If the kitchen is the heart of the home, the island is the heart of the kitchen. This is where you do everything from preparing food to attending zoom meetings for work. The three layouts seen most often are parallel, adjecement, and T- shaped placement.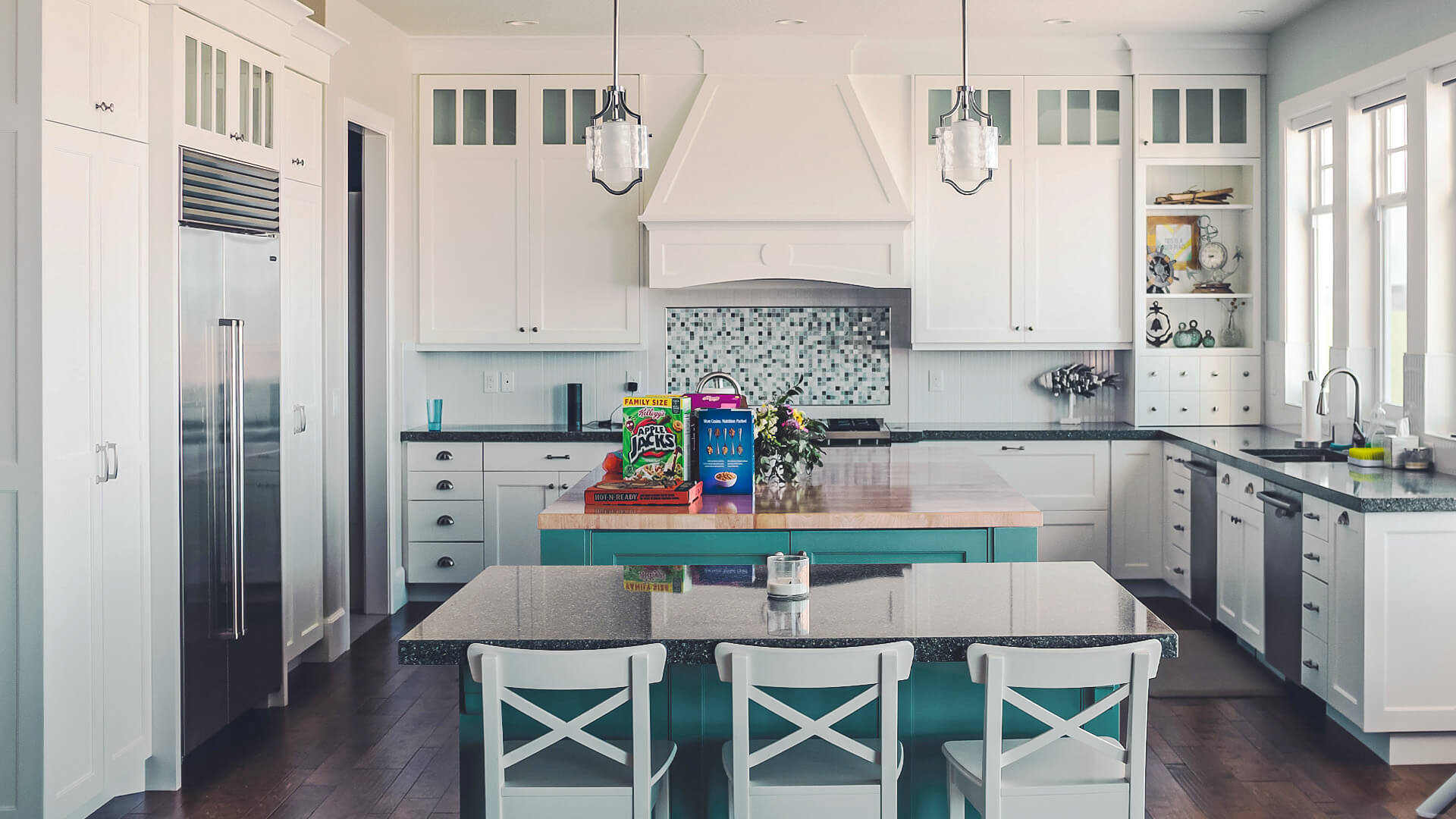 Connectivity Continues
We use smart devices so often in other areas of our lives that it's no surprise they have found their way into the kitchen. Motion sensitive/touchless faucets continue to be popular, but now you can opt for a voice-activated faucet that even allows the amount of water to be specified. Now your fridge enables you to multitask as well. One model of a multitasking fridge has the option to tap and see what is inside and another has a five-screen display for recipes, shopping lists, entertainment, calendars, and a smart home screen to control other devices and appliances.
How are Kitchen Backsplash and Flooring Patterns Changing?
Although kitchen cabinetry remains simple and unembellished, detail is being added to the kitchen through pattern and texture. Two specific areas are seeing this evolution: the backsplash and the floor.
Bolder Backsplash
Instead of covering only a few inches of the wall above a counter, the backsplash now covers the entire wall up to the bottom of the cabinets. This is especially true of the area behind the stove, though you see it on other counter walls as well. The most popular material is a solid color, easy-to-clean tile set in an interesting pattern. This provides detail without dominating the background, adding just the right amount of interest. A second favorite is a boldly veined marble which is also being used on countertops.
Fancy Floors
Floors are also showing more diversity with woods and tiles being used to create geometric designs and eye-catching patterns. Easy care treatments are still the most popular.
How are Kitchens Being Personalized?
In 2022, more than ever, you see paintings and other fine artwork, family photos, memorabilia, and even heirlooms making their way to the kitchen. And why not? It is your kitchen. It should tell the story of you and your family; your memories and your interests. This important trend serves to remind you of connections, good times you've shared, and what and who you love.
If you would like to try any of these trends in your home, give us a call. At Lofty, we are here to help.