As a responsible homeowner, you want to do all you can to add value and beauty to your home.  Instagram, Pinterest, and Houzz, not to mention scores of other design sites, are constantly tempting you with ideas for transforming your kitchen, bathroom, or laundry room to match their picture-perfect results. Professionals will tell you that one of the most critical elements of a successful design is the cabinet type and layout. Because they occupy so much of the room, they are usually the first thing you notice and are the foundation for defining your style. 
More than half the time, the cabinets you see featured on design sites are Shaker-style cabinets because they are the most popular with designers and homeowners alike. According to the 2022 U.S. Houzz Kitchen Trends Study, Shaker-style cabinets are the overwhelming choice of homeowners, capturing 64% of the market. That is an impressive statistic considering the extensive variety of types available today. Let's take a closer look at the Shaker style to find out what makes these beauties so popular.

Are Shaker Cabinets a Fad?
The Shaker style is not just a hot new trend, here today and gone tomorrow. This design has stood the test of time. In fact, the style was first introduced in New England as long ago as the late 1700s by a religious group called the United Society of Believers in Christs's Second Appearing, otherwise known as the Shakers. This group valued honesty, simplicity, and utility and transferred these values to the quality production of simple, unadorned furniture and cabinets, which continue to be valued as American favorites. Several factors contribute to keeping this classic style in demand.
How Versatile Are Shaker Cabinets?
One of the reasons the Shaker design has maintained its well-deserved popularity is due to its versatility. Because the Shaker style is a simple frame and recessed panel structure, the clean, uncomplicated lines make it flexible enough to blend in with almost any design. By varying finishes, colors, hardware, and other accessories, traditional,  transitional, contemporary, modern, or farmhouse styles can all be achieved using Shaker cabinets. This flexibility also means a simple change in finish, color, or hardware will make it easy to switch the style of your kitchen or bath in the future.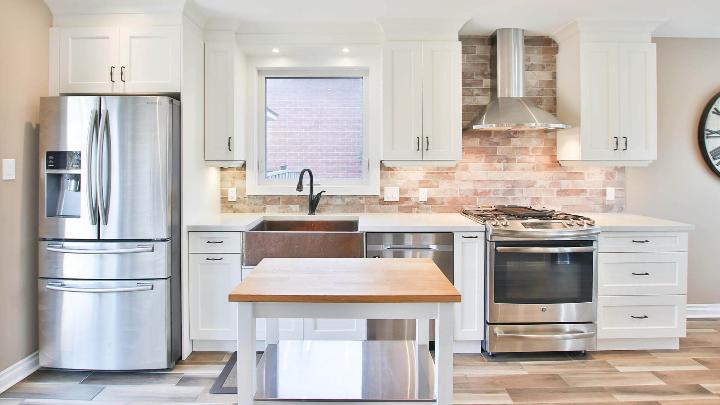 Are Shaker Cabinets Affordable?
Because they do not require elaborate ornamentation or intricate inlays, they are less labor-intensive to produce. This means savings for you.
How Are Shaker Cabinets Constructed?
Though the design is simple, the craftsmanship is high quality. There are two different types of Shaker cabinet construction that you should know about when deciding which would be best for your home: framed and frameless. 
Framed cabinets are built as six-sided boxes with the frame on the front of the cabinet opening. This allows for three different types of door placement, full overlay, partial overlay, and inset.
Framed
Full overlay - the door hinges to the frame and completely covers it, creating a smooth, level appearance across a series of doors. 

Partial overlay - the doors do not completely cover the frame and create a bi-level surface. 

Inset - the cabinet shows the entire frame. The door is flush to the frame and the surface is level as in the overlay but this requires more labor, making it the most costly.

Frameless
This type of cabinet build, also known as full-access, is five-sided with no exterior frame. Instead, the walls are constructed of stronger materials to compensate for the missing frame. Because hinges must be attached to the inside of the box, door mountings are restricted to the full overlay option which gives you the uncluttered look of a unified, level surface throughout the room. As the name full-access implies, this option also provides more storage space.

What Are The Different Types of Shaker Doors?
Since the most recognizable characteristic of the Shaker style is a simple, raised frame around the cabinet door, the quality of its construction is crucial.  There are two approaches to creating a Shaker-style door:
5-piece construction

Single-piece construction
Each has distinct advantages.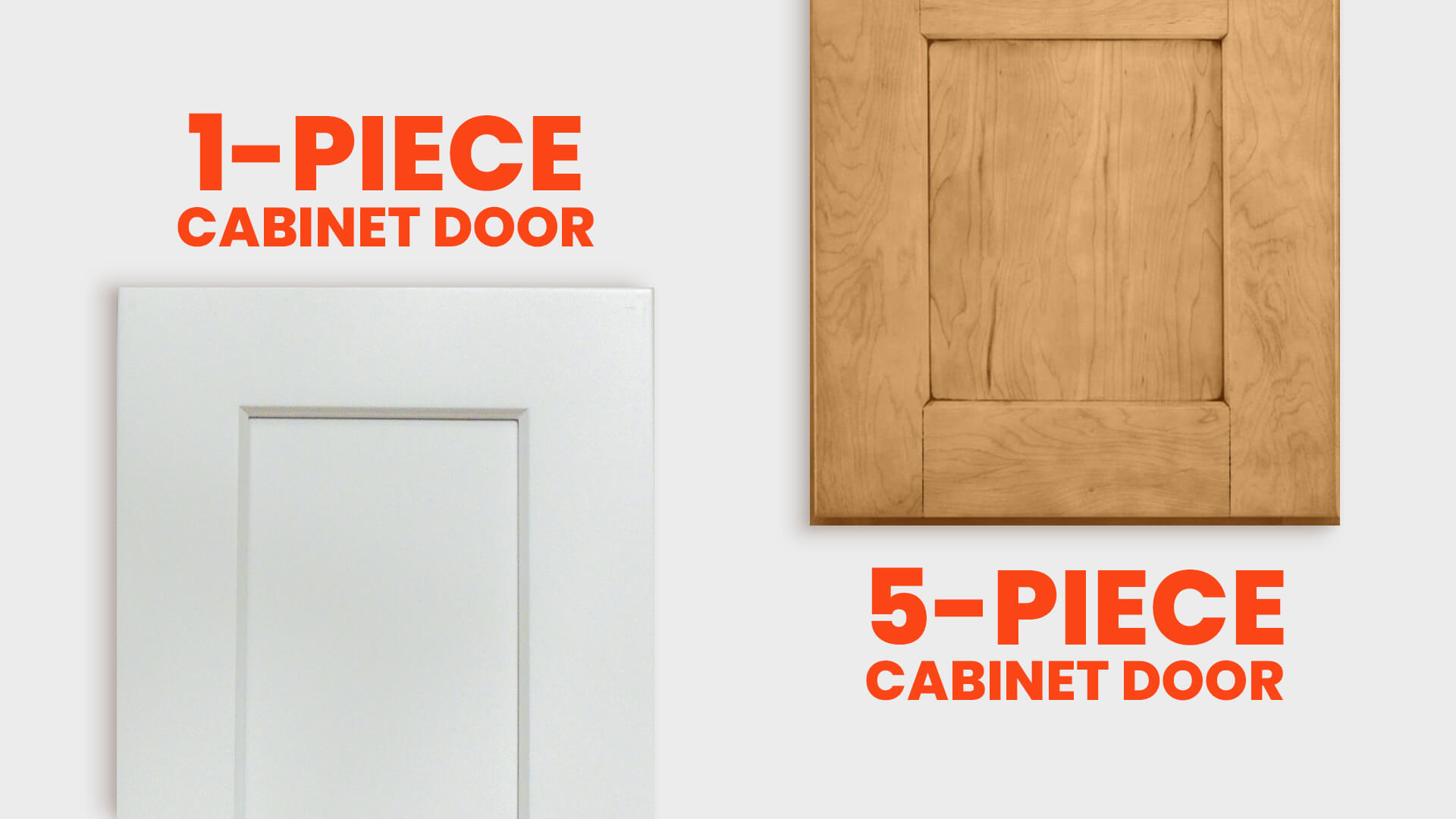 Five-piece
This construction consists of a frame and a centerpiece. The two side stiles and the two rails have joints that lock the center panel securely in place. Because several smaller pieces are used to build the door, there are a wider variety of woods that can be used. This design also allows for the sharp, 90-degree corners that help give the Shaker style its clean look.
Single Piece
In single-piece construction, the Shaker look of a recessed panel is achieved by using a router to carve out layers from the center of the door. The look is smooth and seamless because the door is made from a single piece of wood. However, some of the harder woods cannot be used for this method because routers need a wide space in which to create a smooth center and sharp corners. With harder woods, a narrow cabinet or a drawer is difficult to achieve.
What Materials Are Used in Shaker Cabinets?
Shaker cabinets come in a wide range of wood types and prices. Traditionally, Shaker cabinets have used hardwoods for construction since these are durable and have the added benefit of displaying the natural beauty of the wood. However, the broader selection of materials available today allows for a painted surface or natural treatment based on your design priorities.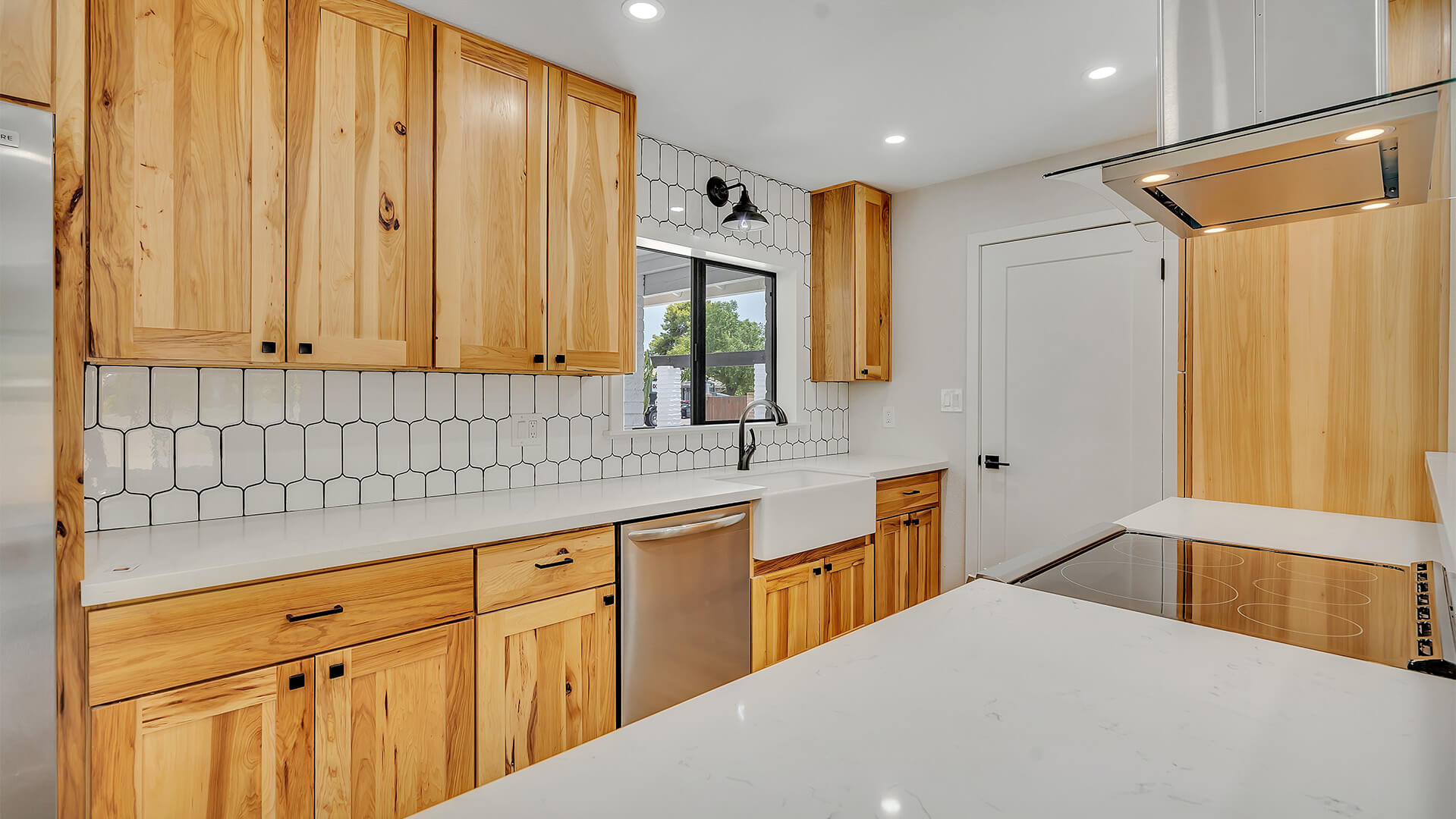 What Hardwoods Are Used in Shaker Cabinets?
As the traditional choice, hardwoods offer a familiar format and natural beauty and warmth of the wood. Since each wood has unique grain patterns you can select the one best fitted to the look you are designing.
Medium Density Fiberboard (MDF)
MDF is a dense wood product made by combining wood fibers, resin, and wax that is formed into panels using pressure and high heat. It is strong and heavy and does not warp.  If you are planning to paint your Shaker cabinets, then MDF is a good choice because it takes paint better than any of the other materials.
Plywood
Plywood is manufactured from thin layers of wood veneer that are glued together with the grain of the wood at cross angles to add strength. Because the layers are so thin, they don't absorb moisture, therefore, plywood won't expand or contract. The result is a strong product that will function well for years.
What Hardware Pairs Well with Shaker Cabinets?
Hardware, like any other carefully selected accessory, adds the finishing touch to define your design. Several types pair well with Shaker cabinets. So you have options when deciding on the look you will create.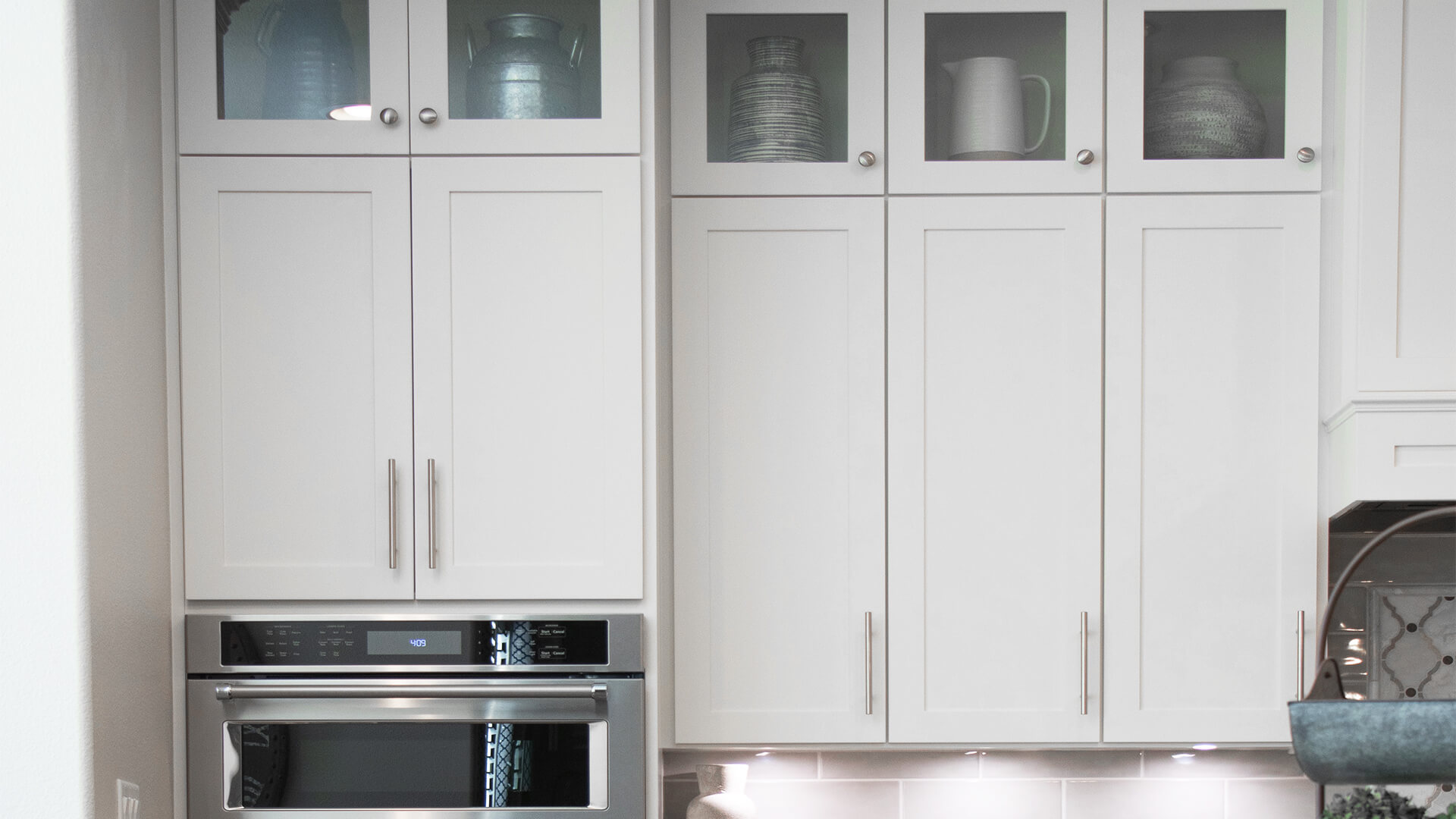 Tubular bar pulls will give you a contemporary or modern look. They can be positioned vertically or horizontally and add a glowing contrast against dark finishes.
Ceramic or wooden knobs will echo back to the rounded knobs of the original Shaker furniture and create a cozy traditional or farmhouse look.

Cup or Bin pulls

will evoke an antique look, especially in brass or tones, and are perfect for creating the popular farmhouse look.

Cup or Bin pullswill evoke an antique look, especially in brass or tones, and are perfect for creating the popular farmhouse look.

Think Shaker for Value and Beauty
If you want to add value and beauty to your home, Shaker cabinets are an excellent choice. The clean look of a simple frame around a flat panel door or drawer never goes out of style. Your kitchen, bathroom, or laundry room remodel will retain a timeless, elegant look for years to come.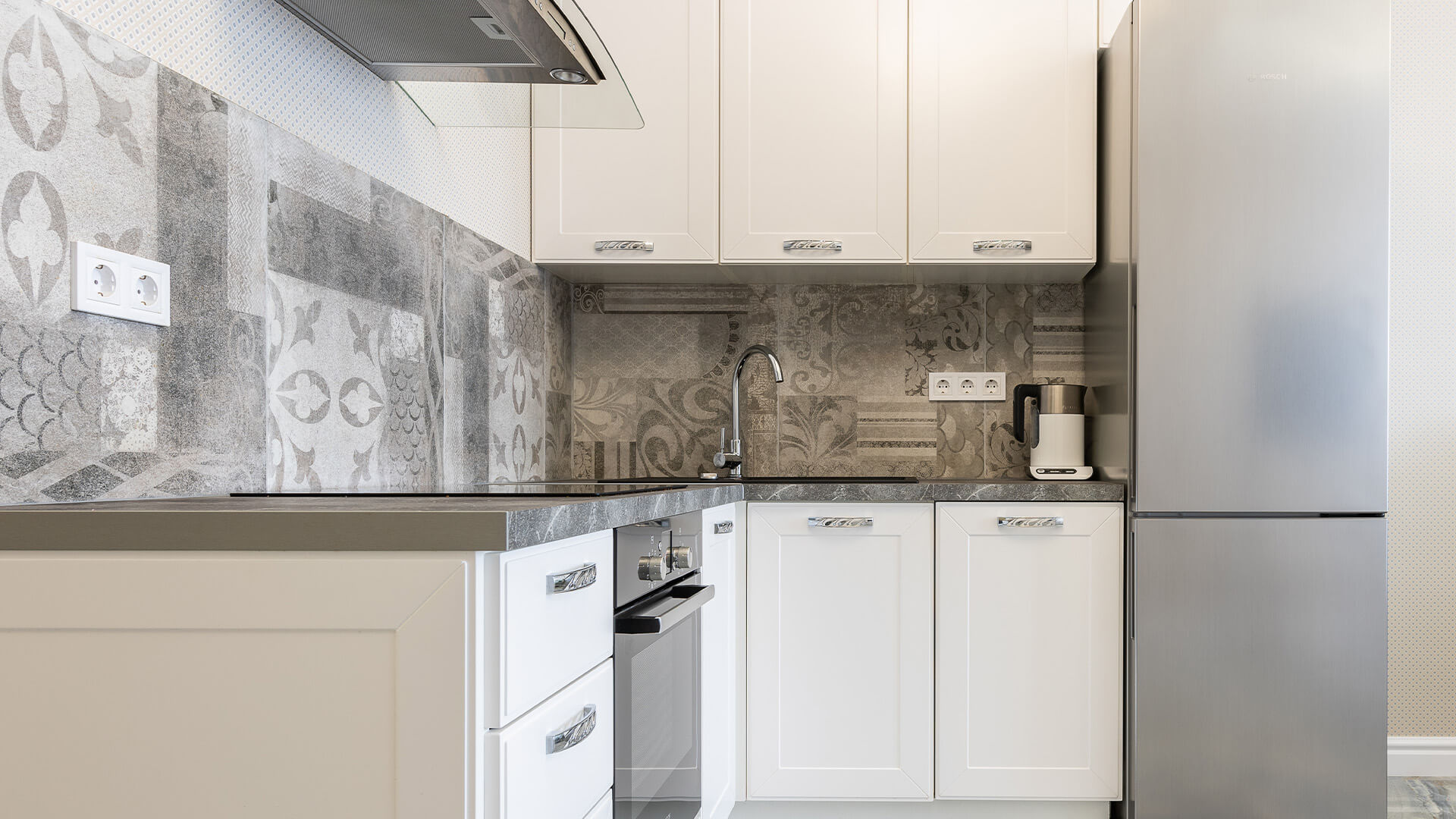 Lofty Cabinets
Your Source for Affordably-Priced, High-Quality Shaker Cabinets
You want well-made cabinets, with fast, professional service at a reasonable price.  Shop Lofty cabinets.